Gothenburg, Sweden – September 1, 2020 – We are excited and proud to announce the launch of the new Hidroxa website. Our primary mission is to share our expertise and knowledge about hyperhidrosis to those who are struggling to find the right treatment option.
In recent times we've seen a higher demand for our iontophoresis products and that is why we decided to refresh our brand identity in order to better reflect who we are. As a dynamic, healthcare-oriented company, we felt it was the perfect time to modernize and realign our marketing and visual identity.
After careful consideration, we have chosen a new modern logo with a key element in the form of a sweat drop which symbolizes the daily struggle against excessive sweating. Along with announcing our new brand identity, we have revamped our company's website. While our name remains the same, our logo and website have changed significantly to better represent who Hidroxa is and how we help clients in their everyday struggles in order to regain their confidence.
One of the most important parts of our work is customer care and getting valuable feedback from our clients and patients. Listening to their stories made us realize how hyperhidrosis has changed the quality of people's lives, and how hard it is to find trustworthy sources about treatment options.
Therefore, we got a motivation to provide useful information and tips on improving quality of life for people who are affected by hyperhidrosis.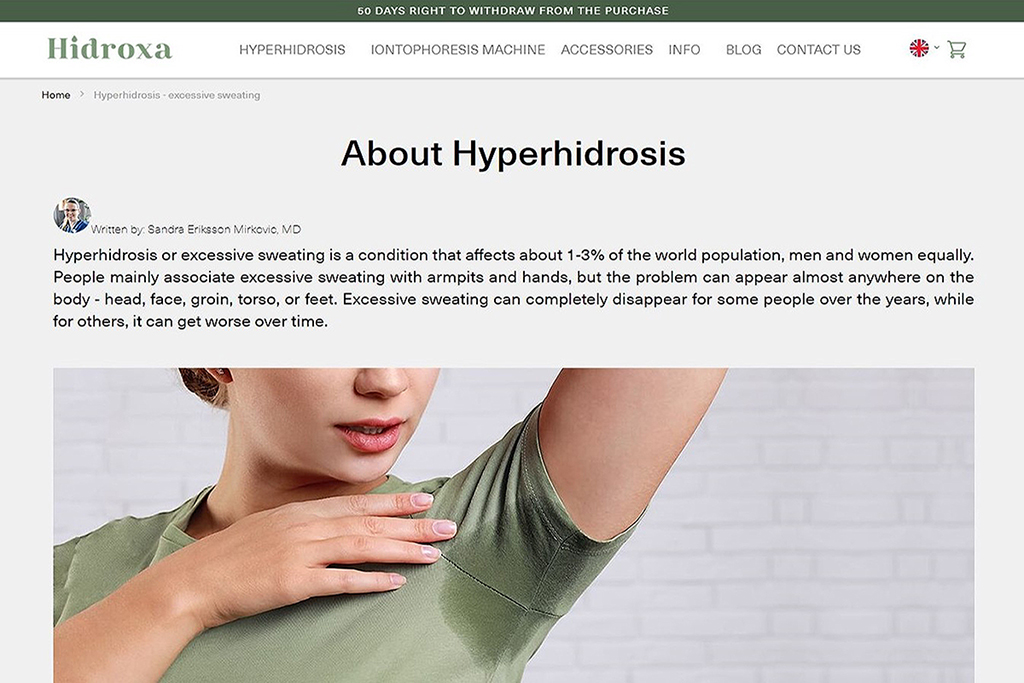 The new website delivers more useful content in a modern, clean, and organized layout to provide visitors with easy access to our company information, highlighting a cost-effective and natural solution to excessive sweating of the palms, feet, and underarms.
Building a Team of Experts around the Iontophoresis Machine
In addition to the new website launch and social media handles, we've decided to expand our team, to provide every client with relevant information and support they deserve in finding and practicing the iontophoresis, and other hyperhidrosis treatments.
Hidroxa is a family-owned company. The most important colleague of ours, and also a co-founder of the company is Dr. Sandra Eriksson Mirkovic – a licensed physician with a special interest in hyperhidrosis. Daily, Sandra works as a general practitioner, but she actively supports Hidroxa's customer service by communicating with patients about maximizing the effect of their treatments. Jimmy Eriksson, COO/Electrical engineer and co-founder, married to Sandra, is responsible for the organizational processes in the company and also for quality assurance of our products.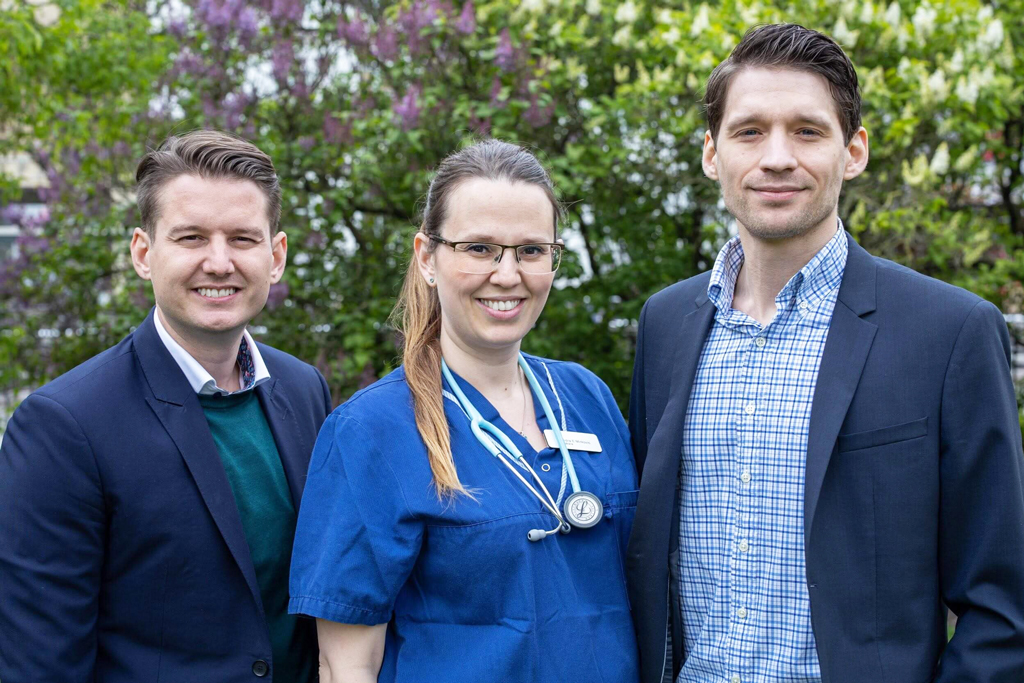 Nikola Mirkovic, Sandra's brother, and Hidroxa's CEOis an expert in e-commerce with a rich background from his own web agency ZenDev. Thanks to Nikola's digital efforts and skill Hidroxa's products have helped a great number of people on a global scale to take control of their excessive sweating.
As stated above, from the customer's feedback about the lack of scientifically proven information and relevant content – we have decided to expand our original team with a marketing team of young and ambitious individuals motivated to engage with people suffering from hyperhidrosis through digital tools and social media.
With years of experience that our co-founder Dr. Sandra Eriksson Mirkovic has, from the beginning we have learned that people suffering from hyperhidrosis are left to themselves to find information regarding their condition. Unfortunately, this practice is still present. Lack of help from the health care system, as well as lack of interest and knowledge, usually leads the patients to think there isn't a treatment that is suitable for them, and often give up getting help. There are many different treatment options available, and one of our main goals is to provide useful information on hyperhidrosis and address patient concerns associated with this condition through communication with our physician Sandra and her team.
There is a solution to this situation, and maybe even though there isn't a cure at the moment, there are many possibilities available for the patient's health to improve.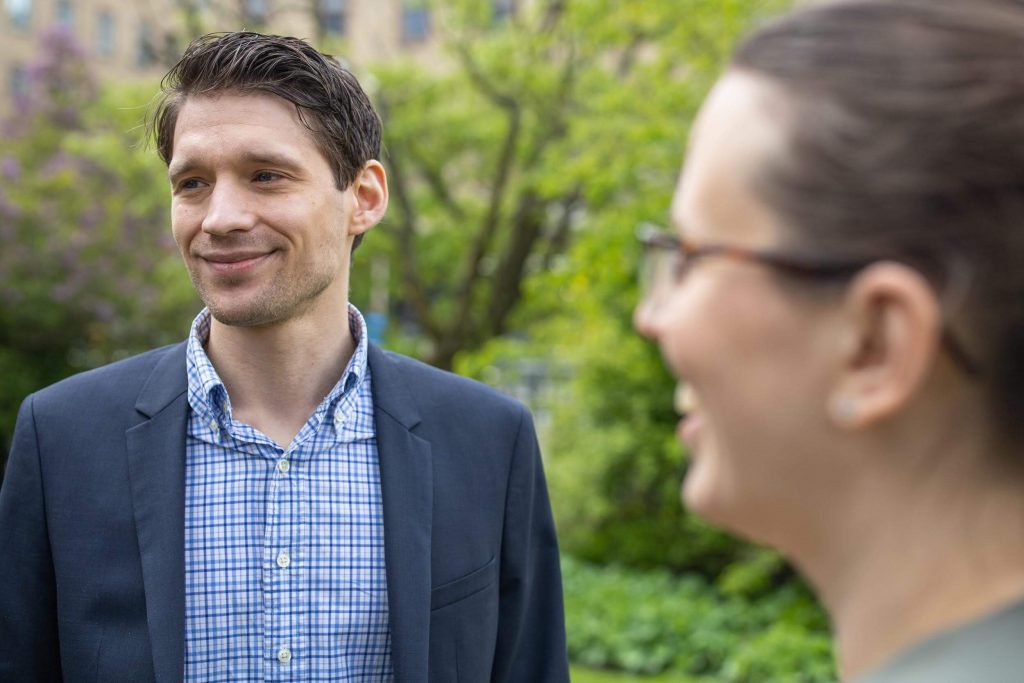 Moving forward with regular blog updates
Hyperhidrosis – excessive sweating is also known as a "silent handicap".
True to that statement – this condition isn't getting enough spotlight. Many healthcare systems aren't investing resources in fighting against this condition, and that is one of the many reasons why patients lack opportunity and information about controlling their sweating.
For that reason, we're planning to educate as many people as possible on various topics around hyperhidrosis and iontophoresis through our blog. The categories on the blog will cover multiple areas such as hand sweat, feet sweat, armpit sweat, life-quality impacts, and the latest discoveries about hyperhidrosis.
Collaboration with well-known sweat clinics
In many countries worldwide, as well as in Sweden, iontophoresis is often a forgotten treatment method. Because it has tremendous potential to help many people, it is crucial to spread the knowledge about it to the fullest extent. Our team at Hidroxa is making big efforts to expand information to hospitals and other clinics about iontophoresis to make this excellent treatment method available to as many people as possible.

Our company is actively working to upgrade the clinics specializing in treating hyperhidrosis with respect to various treatment options such as MiraDry, injections as well as treating general and focal hyperhidrosis. We collaborated with the dermatology department at Oslo University hospital in Norway. We have reached out to several clinics and hospitals in Sweden such as Sahlgrenska university hospital in Gothenburg as well as Helsingborg hospital and we look forward to establishing a successful collaboration with them as well.
In the future, we are planning to expand our collaboration and reach out to more clinics in Sweden, and Scandinavia in the future. Our collaborations are an important part of guaranteeing the delivery of correct information to patients when they are reaching out to their health caretakers.
About us
Hidroxa Medical AB started as a small, family-owned company from Gothenburg, Sweden. In 2015 the idea of bringing iontophoresis devices to Scandinavia was formed. We knew that the possibilities of receiving treatment for one's excessive sweating, hyperhidrosis were limited and we also knew that the problem with hyperhidrosis was common. We have several people around us suffering from hyperhidrosis and we had seen how hard it was for them to find help. Some methods of treating hyperhidrosis require to be performed in clinics while using an iontophoresis device is possible in the comfort of people's own homes.